Hope for the Home -Publishings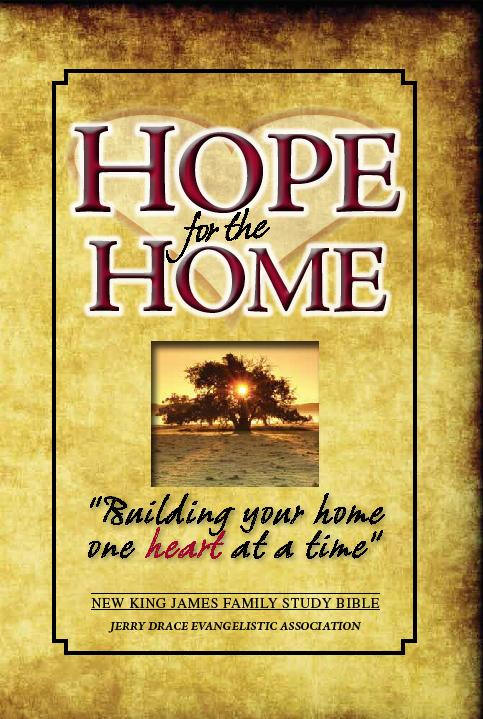 Hope for the Home: Family Worship Study Bible
"Unless the LORD builds the house, they labor in vain who build it." (Psalm 127:1)
As the names implies, this unique family study Bible has been carefully designed to offer biblical insights and personal suggestions by allowing the LORD to build your home and strengthen those who live in it.
In response to requests from families across the United States and the United Kingdom the Jerry Drace Evangelistic Association and numerous Christian leaders have collaborated to produce this practical, effective, resource for every component which makes up this complex structure called – family.
The HOPE FOR THE HOME STUDY BIBLE includes among many helps the following attributes:
44 WAYS TO STRENGTHEN YOUR MARRIAGE
RECOMMENDATIONS FOR A REWARDING MARRIAGE
TALKING TIPS FROM PROVERBS
THE ABCs OF THE FAMILY
THIRTY WAYS TO COMMUNICATE WITH YOUR CHILD
THE WORLD OF TEENAGERS
POSSIBLE SIGNS OF REBELLION
FROM THE HEART OF A FATHER
SINGLE YOUNG ADULTS
PICKING UP THE PIECES—THE AFTERMATH OF DIVORCE

THE GOLDEN YEARS

THE NAMES OF GOD
Some of the contributors are: Henry T. Blackaby, author of Experiencing God; Becky Drace, author of Becoming a Woman of Worth; Jerry Drace, author of 44 Ways to Strengthen Your Marriage and From the Heart of a Father; Richard Land, author of The Divided States of America and Imagine! A God-Blessed America; H.B. London Jr., author of Pause, Recharge, Refresh and The Heart of a Great Pastor ; Patrick Morley, author of The Man in the Mirror; Thom Rainer, author of Simple Life, Simple Church, Raising Dad, and Essential Church.
Special Introductory Offer
1 Box of 12: Regular Price - $480
Introductory Price - 60% discount - $192 per box
Add $20 per box for FedEx Shipping
Name of Church _______________________________
Pastor_______________________________________
Street Address________________________________
City_________________ State____ Zip____________
Make check payable to: Jerry Drace Evangelistic Assoc. Inc.
236 Sanders Bluff Rd., Humboldt, TN 38343
Phone orders: 731-784-0087
"When you touch your family, you touch the heart of God"